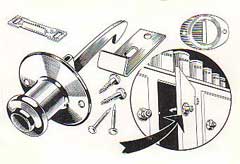 These have been mainly used in Kitchens, Bathrooms, Caravans and child proof cupboards from around the 1930's. The BODY comes in either
chrome or polished brassor florentine bronze.
The BUTTONS can be chrome or brass. Also the THE BUTTONS come in TRUE BAKELITE in one of the following colours. Brown, Black, White, Red , Grey and Olive green. Also SPECKLED blue, pink, green, yellow and violet (primrose).

***********************

Each catch comes with its striker arm,
2 keepers ( to cover different situations )
rear guide, 4 screws & 3 pins.
The base is 1 1/2" in diameter. A hole is drilled through the cupboard door or drawer front. The striker arm goes through this hole and the push catch is mounted by 2 screws on the front. The round plate with the slot is fitted behind the door over the arm to cover the hole and held with 2 pins.
The small catch plate that suits best ( out of the 2 supplied )
is mounted on a shelf on the top or bottom, or side rail of the cupboard or drawer inside, for the arm to catch onto.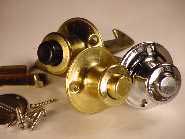 C143 PUSH CATCHES
for
KITCHEN OR CARAVAN
CUPBOARDS
PUSH RELEASE

AU $16. 50


COMLPLETE WITH
striker arm, guide
and keeper
incl. screws


BUTTON

in CHROME OR BRASS
OR FLORENINE BRONZE

and most colours
look right


THE BODY

in CHROME OR BRASS
OR FLORENINE BRONZE


Catch in - -
ALL CHROME
ALL BRASS
ALL FLOR. BRONZE

or choice of above body
with buton below.
SOLID
BAKELITE
COLOURS


BROWN
BLACK
WHITE
RED
OLIVE GREEN

and
SPECKLE
BAKELITE
COLOURS
SPECKLE
BLUE / WHITE
SPECKLE
PINK/ WHITE
SPECKLE
GREEN / WHITE
SPECKLE
YELLOW / WHITE
SPECKLE
(VIOLET) PURPLE / WHITE

SOME EXAMPLES
OF
BUTTON COLOURS
BELOW