This is an exact replica of the old original wall bracket. We have had these hand-cast in solid bronze.
Complete with an old original shade as pictured ......
BRACKET WITH SHADE = $ 135. 00
BRACKET ONLY = $ 87. 00
SHADE ONLY = $ 48. 00
CODE - - SLIP 3
Three new hand-cast bronze brackets remaining in stock.
We have a selection of colours in these original shades that suit this style of bracket.
If you already have the shade to suit these brackets and just need the bracket, we can sell the bracket on its own for $ 87.00.
These new brackets come complete with a new 1/2" brass earthed lampholder so that it is ready to be wired and installed by your electrician.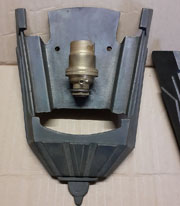 This is the new hand-cast bronze wall bracket (above)
showing the lampholder connection
= $ 87.00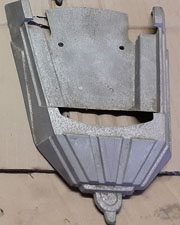 This is an old original bracket of the same style (above) cast from aluminium.
Note that it is missing its lampholder connection.
Price for this bracket 'as is' = $ 48. 00