FOR HOME PAGE CLICK ------HOME
BACK TO ART DECO S/W RECEPTACLES - - - CLICK
***
www. bakelite switch.com www. bakelite fittings.com www.bakeliteproducts.com www.bakelite.com.au

WWW.AUTHENTICLIGHTINGANDHARDWARE.COM
green bakelite switch
SCROLL DOWN
AUSTRALIA - - UK.
SWITCHES - POWER POINTS - DIMMERS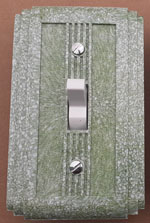 Speckle-green single switch plate shown here with a white switch mechanism and chrome bolts.
Brown switch mechanisms also available.
All sizes & combinations now available.

***
For ordering
email - - bakeliteproducts@gmail.com
***
To order in SPECKLE GREEN look at MOTTLE RED
or a colour for prices
and specify "SPECKLE GREEN".