FOR HOME PAGE CLICK ------ HOME

USA - - CANADA
SWITCHES - POWER POINTS
OUTLET COVERS
SPECKLE BLUE BAKELITE
BLUE OULET COVER
WWW.AUTHENTICLIGHTINGANDHARDWARE.COM
VICTORIANLIVING.COM.AU

BASED IN AUSTRALIA
**SENDING WORLDWIDE**
ABN: 84 809 143 967
PLEASE EMAIL US WITH YOUR
ORDER OR ENQUIRY
bakeliteproducts@gmail.com
WE WILL RESPOND WITH A QUOTE
AND PROVIDE PAYMENT OPTIONS.
Please include your postcode and suburb
so that we can calculate postal costs.
We accept - - DIRECT DEPOSIT & PAYPAL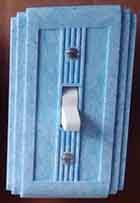 SPECKLE BLUE BAKELITE SWITCHES OUTLETS
All sizes & combinations now available.
To order in SPECKLE BLUE look at MOTTLE RED
and specify "SPECKLE BLUE".
***
FOR HOME PAGE CLICK ------ HOME
MORE PICS COMING